My favourite new gadget is a 10 year old Kindle.
It has a micro USB connector, a low density display, and a very janky backlight. It's slow, its battery doesn't hold juice anymore, and it's not even mine—my SO bought it years before we even met.
But it's gotten me to start reading again—take action to read books that had been sitting in my library for ages.
Why I love it
I have been a digital-book convert ever since my first ebook reader, the original nook. Ever since its demise, I had tried to use my various iPad's as my reading device, as I loved the highlighting and note-taking capabilities—not to mention the ergonomics benefits—over a regular book. The notifications would get very distracting though, and with a recent addiction to YouTube, I would very often resort to passive consumption instead of the act of reading.
Going back to a purpose-built device was just what I needed. All the benefits, none of the downsides.
I love that I don't have to mind where the Kindle lands without a case, and because it's so much more lighter than an iPad, I have no trouble holding it up at eye level for extended period of time. I also didn't mind taking it to the beach or poolside with me on a recent vacation, leaving it on the sunbed as I went for a dip.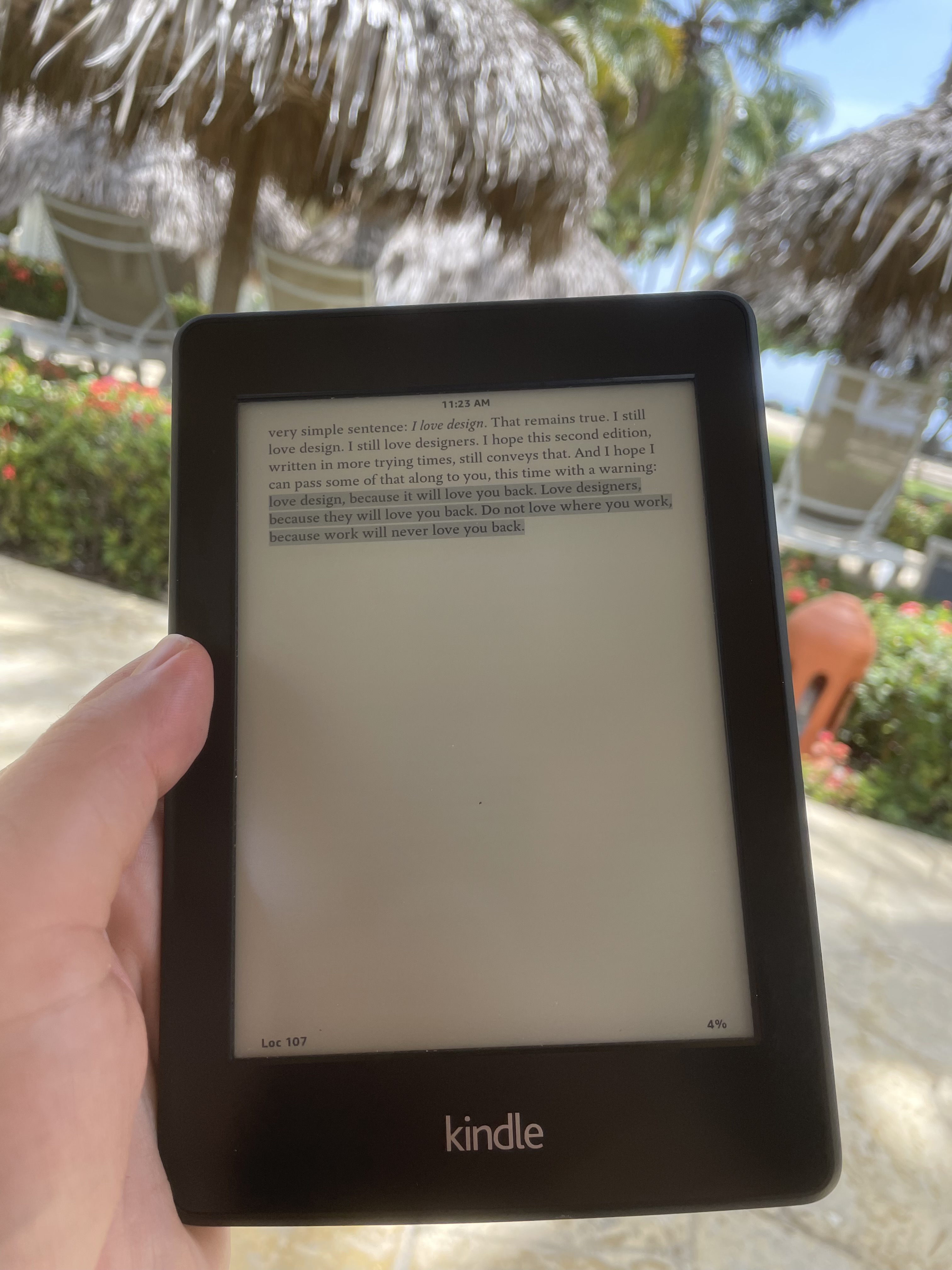 One of the things I love about it is that it fits perfectly into my little Decathlon Quechua sling pouch that I take with me on flights and train rides. For easier access, I used to try and fit my iPad mini into it so I'd have it on me and not in my backpack—it'd be an extremely tight fit, and I wouldn't have much space for anything else that I wanted on me for safekeeping. With the Kindle, I can also have my wallet and passport and many other things at hand, with the added bonus of reaching for a book rather than a video.
It's missing a few nice-to-have features though.
USB-C would be nice.
I've got no shortage of micro USB cables and devices, but using them at home vs. carrying yet another cable on vacation are very different things.
A background light that can be color-adjusted.
The blue light is just too harsh on this Kindle.
Dark mode.
At night, I just prefer it over the regular good-ol'-book aesthetic.
Epub support.
All my library is .epub's. Sure, I have a huge A Book Apart collection that provides .mobi files as well, but they only make up about 1/3rd of my current reading list.
That's why I'll get the Kobo Clara 2E soon.
It's the same size as this Gen 2 Paperwhite Kindle; with USB-C connection, better display, better backlight and dark mode, and .epub support. Everything I like about this Kindle, without the fuss of converting files.
Because I didn't want to give into the dopamine rush that comes with buying a new gadget, I've put a stopgap though. I had already converted a few books, and loaded quite a few of them on the Kindle to try it out—I'm not going to order one until I'm done with them all.
---
An unlikely companion emerges
It's easier to read books when you have a Kindle, but I still needed railguards to not fall back to old habits, such as leaving my phone in the room and only taking the Kindle with me to the poolside.
However, I also love listening to music, and the peace and quiet a set of AirPods Pro brings.
It was at that point I realized my Apple Watch would be a perfect companion to the Kindle. The watch connects to the earphones effortlessly, and an apparently opt-out feature already had a bunch of recently acquired music loaded to my Music app on the watch.
Couldn't have spent a better afternoon. Nothing to worry about—just some good book and lovely music.